Mercy For Animals' vital work for animals is possible only because of our incredible supporters. That's why we recognized and celebrated people around the world who have compassion in their hearts for farmed animals at our virtual event—An Evening of Gratitude. Mercy For Animals CEO and president, Leah Garcés, shared with attendees:
We show up for farmed animals, for each other, and for the planet—because we have hope for a future that honors all beings. We know that, with courage, with compassion, and with meaningful actions, the future is ours to decide. We choose to give hope to animals.
Because of people like you, 2022 has been a transformative year. You drive this change by supporting our corporate and public engagement, legal advocacy, organizing, and investigations. With your help, we are challenging the status quo and making a real difference for animals worldwide. The list is too long to share here, but you can visit our Global Impact Center anytime and see all the accomplishments you've made happen—this year and every year!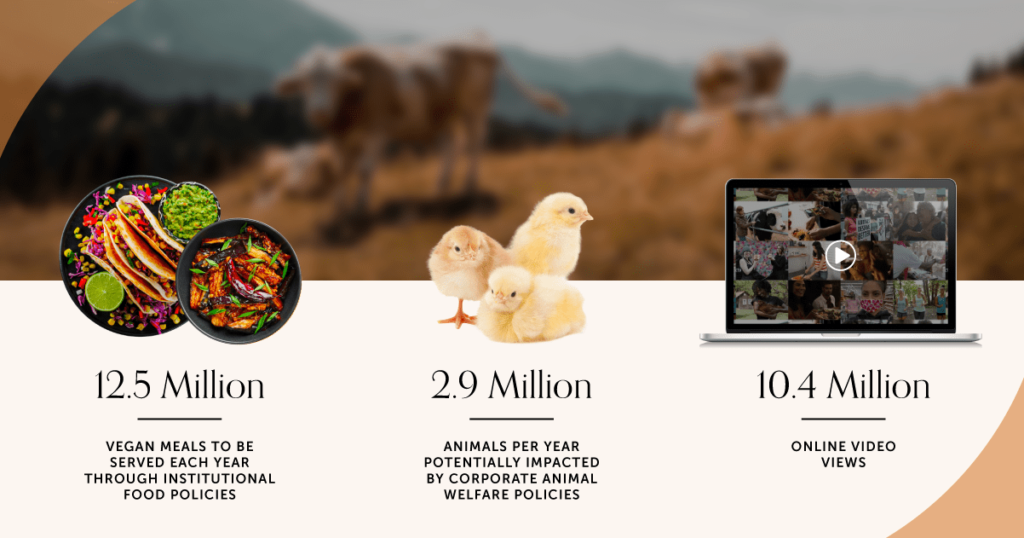 Some of our most important and difficult work is spreading awareness about animal suffering in factory farms. At the event, Paula Tejeda-Moncrief, senior investigations manager, shared:
Change is happening. That's why the industry is doing everything it can to fight us, even in the Supreme Court of the United States. But no matter how hard they fight, and no matter how long it takes, we will be there for the animals until our job is done—until the end of factory farming. Thank you for your dedication and support, because we are all in this together.
Leah was honored to premier a song she wrote called "Shining a Light on Bright," performed and produced by the multitalented singer and musician Michelle Lauria. "It's my personal love letter and homage to all the brave undercover investigators who shine a light on the harrowing animal cruelty uncovered behind the closed doors of factory farms."
Leah concluded the evening with hope, inspiration, and heartfelt appreciation: Each of you embodies hope, and your gestures, your actions, your contributions help us pave the way forward for animals." Our accomplishments are never achieved alone. Everything we do is only possible because of you. An evening recognizing our supporters left the Mercy For Animals team feeling energized and ready to keep working hard to achieve our mission.
If you missed the event, you can view it here.