Just weeks after the second leg of our
Walmart Cruelty Tour
came to a close, Mercy For Animals is back on the road with a strong message to Walmart that its
support of inhumane gestation crates
will simply not stand.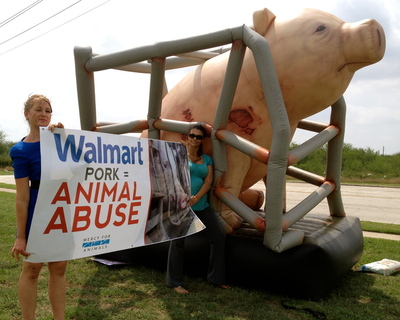 Traveling to over 50 cities in just three months, MFA's national campaign coordinator, Jeni Haines, will take this country by storm, organizing protests and toting a 10-foot-tall, inflatable pig in a gestation crate. Jeni and MFA's incredible team of volunteers are going to show Walmart we mean business.
Want to give Walmart a piece of your mind? Join the tour when it comes to your hometown. Find dates and locations on
WalmartCrueltyTour.com
. If we're not in your neighborhood or you can't make it to a protest, be sure to sign our
Change.org petition
. Also, let your friends know about the tour by posting the
URL
to all of your social media sites.
Remember, the most powerful step we can take to help stop the
torturous animal abuse
that is rampant on factory farms is to transition to a compassionate, vegan diet. Check out
ChooseVeg.com
for tips, tricks, and recipes.