Colorado State University
has announced that its Fort Collins campus will soon open a live slaughterhouse near the school's library to teach students how to kill animals.
Kevin Pond, head of CSU's Department of Animal Sciences, said:
We do not currently have a space on- or off-campus for students to learn these processes first-hand. For educational purposes, the full range of animal handling and processing will take place in the facility.
A campus slaughterhouse will undoubtedly traumatize students. It will also endanger them. According to
a Government Accountability Office report
, 151 meat and poultry workers suffered fatal injuries from 2004 to 2013, an average of about two workers a month.
Slaughterhouses are also sad and horrible places for innocent animals who simply want to live.
Watch this shocking Mercy For Animals undercover investigation at a Tyson Foods chicken slaughterhouse.
An estimated
12 percent of millennials
report that they are "faithful vegetarians. So it should come as no surprise that CSU students are upset. Many tweeted the university president with the hashtag #NoCSUSlaughterhouse.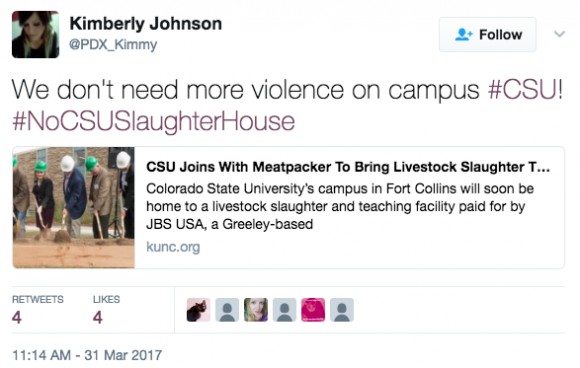 You can choose not to support the cruel meat industry by switching to a compassionate vegan diet. Click
here
to order your FREE
Vegetarian Starter Guide
today!