The books we read, the movies we watch, the stories we tell one another shape not only what we think is true but what we think is possible. When it comes to the food-tech and food-solutions space, the media predominantly heralds stories of heroic white men disrupting the market, bringing in shocking investments, and making extraordinary scientific breakthroughs. 
But Jenny Stojkovic's new book, The Future of Food Is Female, creates space for a different hero or, rather, heroine. It shares the stories of women around the world who are at the forefront of disrupting the food system and creating the future of food.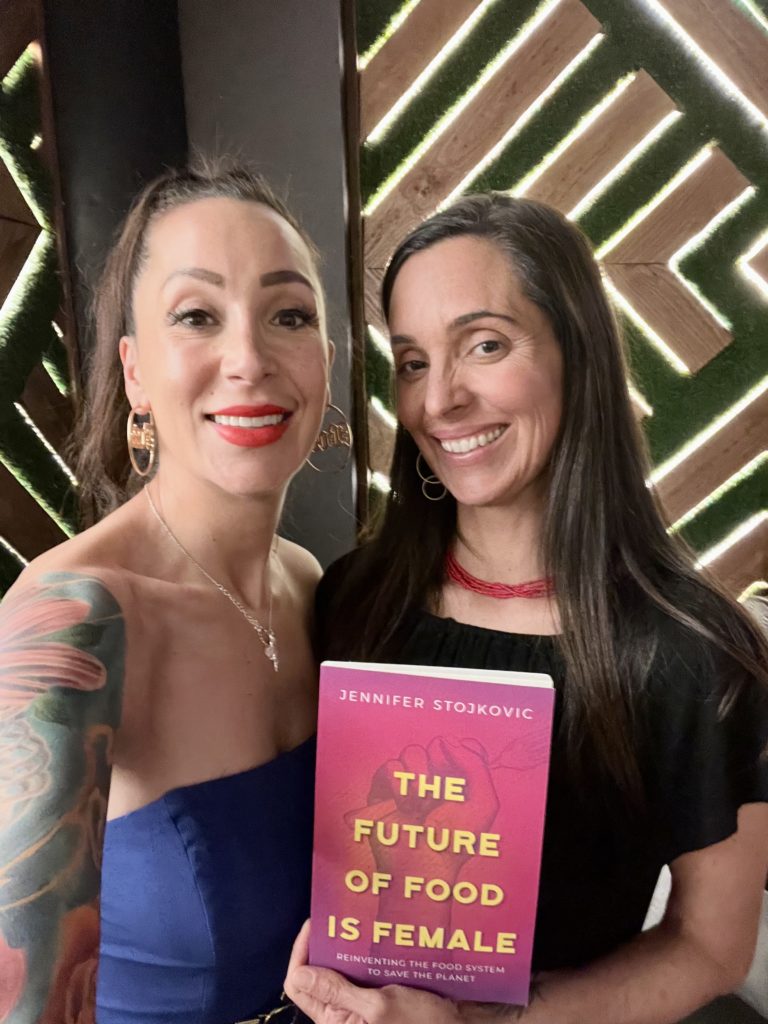 As someone who lives and breathes the issue of transitioning our food system away from animal agriculture, I was surprised by how many of these women I had never heard of. This shows how important it is to create space for these stories. Each of these women is, in her own right, a powerful force changing our food system for the better. 
Lisa Dyson, PhD, CEO of Air Protein, for example, is literally making protein from thin air—not by magic but with long-forgotten NASA technology and a deep passion for STEM (science, technology, engineering, and mathematics). Shama Sukul Lee, CEO of Sunfed, has created a proprietary process and hardware to make lean proteins to replace animal products. She's using pulses for her core ingredients because they are considered some of the most environmentally friendly crops in the world. Priyanka Srinivas, CEO of The Live Green Co., runs a company that is using AI and machine learning to screen ancestral food ingredients and identify which would perform best in terms of taste, texture, and process. 
Jenny's book demonstrates what happens when we bring much more diversity to the table. It means we have an abundance of solutions, ideas, and pathways to addressing the problem.
For example, Fengru Lin, CEO of TurtleTree, is from Singapore, a country with fewer than 300 square miles to produce food for five million people. She's grown up in the reality of needing to be precise about scarce resources. With that unique framing, she's clear about the need to replace the dairy industry and is exploring cell-based human (yes, you read that right, human) milk for baby formula and beyond—everything from athletic performance to nutritional support for seniors.
Moreover, all the women in the book have something in common: They are all working with a sense of serving their communities. They value more than turning a profit, though they do that too. In fact, Jenny writes, "Studies demonstrate that women founders perform 63 percent better than all-male founder teams." 
Perhaps no one exemplifies the spirit of service better than Pinky Cole, my personal hometown hero, who has built the Slutty Vegan restaurant franchise. Pinky is consistently giving back and building a better community. For instance, she awarded the four children of Rayshard Brooks, who was killed in a police shooting, full scholarships to attend Clark Atlanta University. Her dream is not to be on every corner with her franchise but to be in every food desert. 
We need these solutions and we need these women if we are really going to move away from a food system that tortures animals and leaves communities and our planet devastated. 
I was honored to host an event with Jenny in Atlanta where we gathered at Pinky Cole's Bar Vegan to celebrate not just the women in this book but all women forging brilliant new pathways to the plant-based future we all deserve.