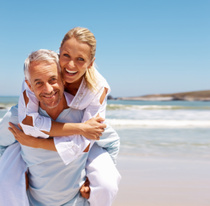 A recent article published by "
Time
" details seven different ways in which vegetarians are poised for longer, healthier lives than their meat-eating counterparts.
Results of various studies reveal that vegetarians are less likely to suffer from
high blood pressure
,
heart disease
,
cancer
, and
diabetes
. They are also less likely to be
overweight
, and have a
lower overall risk of death
. To top it off, vegetarians have even proven to have
better moods
!
In fact, according to the article, "A 2012
study
randomly split participants into three diets: all-meat allowed, fish-only, and vegetarian no-meat. The researchers found that after two weeks, the people on the vegetarian diet reported more mood improvements than those on the other two diets."
The science is clear. A healthy, vegetarian diet not only prevents some of the most common chronic diseases, but also leads to an overall improved quality of life.
For free recipes and more information on transitioning to a healthy and humane vegetarian diet, visit
ChooseVeg.com
.