Since Mercy For Animals' inception over two decades ago, the parallels between the fight for LGBTQ+ rights, animal rights, and other social justice movements have been an important theme in our philosophy and message.
Throughout the years as our organization has grown, Mercy For Animals has also expanded our participation in pride events. Studies indicate that the LGBTQ+ community may be more likely than the average person to consider vegetarianism, making pride events a great place to reach out to open-minded, animal-loving people.
In the mid-2000s, Mercy For Animals became one of the first animal rights organizations to march in pride parades around the country. In June 2008, we took part in the Chicago Gay Pride Parade, one of the largest pride parades in the world, where our activists distributed thousands of Why Vegetarian booklets to attendees.
Mercy For Animals continued to march in pride parades in cities nationwide every year, including New York, Columbus, Chicago, Cincinnati, and Los Angeles, promoting compassion, diversity, and social justice for all. In
June 2012
—our seventh year participating in pride parades—more than 300 volunteers marched in seven parades and distributed a record-breaking 57,000 pieces of literature. Through our Paid-Per-View program, an incredible 1,300 people watched a four-minute edit of Mercy For Animals' hard-hitting documentary
Farm to Fridge
.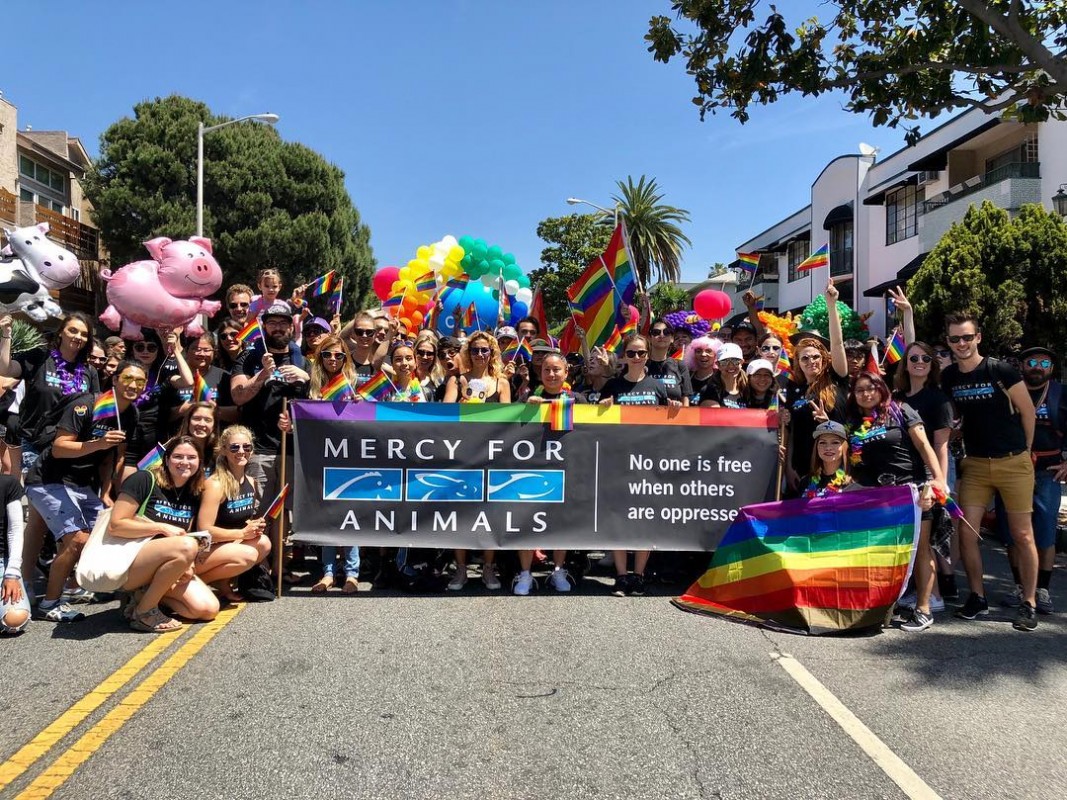 By 2017, we were participating in annual LGBTQ+ pride parades in more than eight major North American cities, including Los Angeles, Columbus, Cleveland, Cincinnati, San Francisco, New York, Chicago, and Toronto. Around the country, activists marched behind a Mercy For Animals banner, waving pride flags. At the time, our organizing manager, Shayna Rowbotham, stated:
Each year, we're humbled by the outpouring of love as we stand alongside some of the most prominent and compassionate members and supporters of the LGBTQ community—and each year, we're inspired by the hundreds of dedicated and passionate volunteers who join us at these celebrations.
Pride celebrations in 2019 marked 50 years since the
Stonewall Rebellion
, an event that sparked the modern LGBTQ+ rights movement in the United States. In honor of the courage, pain, and persistence that got us where we are today, Mercy For Animals launched a campaign encouraging everyone to proudly embrace who they are.
Also in 2019, Mercy For Animals Brazil participated in São Paulo's traditional Pride Fair, setting up a demonstration showing how chickens are confined in the egg industry and marching with a banner. We also partnered with Brazilian drag queen and activist Leyllah Diva Black, who composed
an exclusive song
for Mercy For Animals and debuted it at Brazil's veg fest.
Last year was difficult for everyone. In the midst of the COVID-19 pandemic and widespread demonstrations calling for an end to police brutality and systemic racism, pride was an excellent reminder to embody compassion. Encouraging our supporters to be proud, brave, and kind, Mercy For Animals shared a message of solidarity and highlighted the contributions of Marsha P. Johnson, a Black trans woman and central figure in the Stonewall Rebellion.