There is major fall-out from MFA's
New York dairy farm investigations
that could change state law and prevent cruelty to thousands of animals!
After reviewing MFA's video of animal cruelty at Willet Dairy, Assemblywoman Linda Rosenthal proposed a ban on tail docking –
A.09732
– similar to the one enacted in California last year. Painfully cutting off the tails of horses has been illegal in New York State for decades and it's high time that we extend this same modest protection to cattle. New York residents should
contact their Assemblymembers
and encourage them to support this measure, as well as spread the word about the proposed ban to other New York residents.
Tail docking
cattle is among the most disturbing practices MFA's undercover investigator captured on film. A worker uses a bladed clamp to slice off the ends of calves' tails, severing nerves, skin and vertebrae – all without the use of anesthesia. The calves' legs buckle from the pain, as they stagger and stumble to the ground. The worker then applies a smoking cautery device to the amputations.
While dairy officials claim that tail docking is necessary to prevent cows from slinging manure, many veterinarians and animal scientists, including the conservative
American Veterinary Medical Association
, condemn tail docking as an acutely painful procedure that lacks scientific support.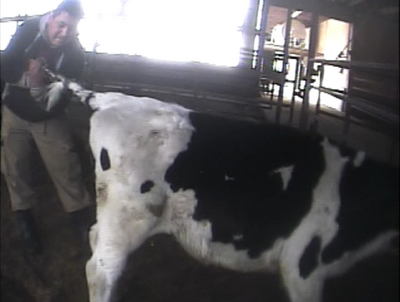 Assemblywoman Rosenthal's proposed ban on tail docking and the
ban enacted in California
last year are major steps in the right direction; clearly, the movement to end the suffering of cows at the hands of the dairy industry is mounting. While such measures fail to address other torturous mutilations performed without anesthesia, such as castration and dehorning (burning into the skulls of calves to remove their budding horns), as opposition to farmed animal cruelty gains momentum, we are optimistic that we will see proposed bans on these practices in the future.