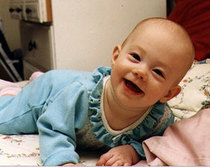 An
article in the Winnipeg Free Press
reports that Health Canada's recent recommendation that 6-month-old babies consume meat, poultry and fish "daily or frequently" is not supported by science. Health Canada used to advise babies' first foods to be iron-fortified cereal, vegetables, and fruit.
A University of Manitoba-based nutrition researcher wonders why the government is telling adults to cut back on meat due to concerns about cancer and other diseases, while also telling infants to consume these products in their sensitive early years. He has received funding to study how various foods affect babies' health, and believes Health Canada should be basing sweeping public health recommendations on sound data such as this.
Health Canada would not comment.
Pediatrician Dr. Grant MacDougall added that while iron deficiency is a concern, the main culprit for this is "the early introduction of cow's milk" rather than "the late introduction of meat." That's because not only does cow's milk
not
contain iron, it contains nutrients that interfere with the body's ability to get iron.
For some real-life examples of thriving vegan children,
please visit this page
.