On Tuesday, Mercy For Animals volunteers protested the Arby's National Franchise Conference at the Loews Atlanta Hotel in Midtown Atlanta. The powerful, silent demonstration urged Arby's to publicly ban some of the worst factory farming practices for the chickens raised and slaughtered in its supply chain. Volunteers handed out educational materials that documented horrific conditions for chickens in factory farms and spoke with numerous franchisees, corporate sponsors, and vendors about Arby's failed leadership on this urgent animal welfare concern.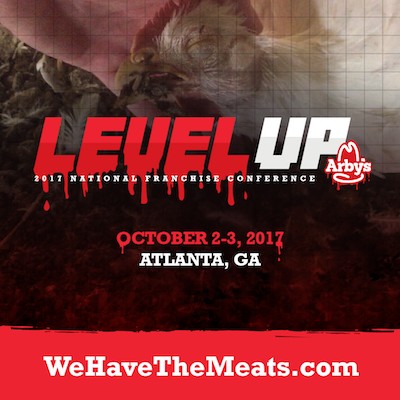 Arby's branding of the event, "
Level Up
, is appropriate because Arby's urgently needs to level up to its competitors on animal welfare. It's no surprise that during the conference Arby's executives shared their company's slowing growth rate and struggle to survive in a competitive market. Nearly 85,000 people have signed a
petition
demanding Arby's publicly commit to eliminating the worst forms of animal cruelty in its supply chain. But the company has failed to listen.
Outside the hotel, MFA confronted Arby's CEO Paul Brown. When asked when Arby's would join its competitors and take a public stand on this important issue, Brown replied, "I don't know. His ambiguous response is unacceptable. As part of MFA's ongoing public education campaign, MFA has repeatedly shared with Arby's executive leadership—including Mr. Brown—that Arby's is failing to take sufficient action on animal welfare, especially the welfare of chickens raised and slaughtered for its restaurants.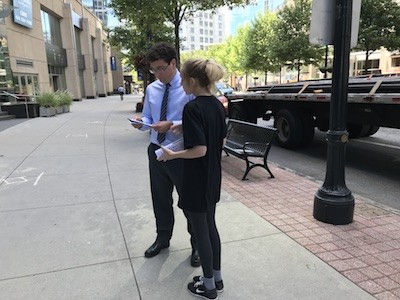 Dozens of leading chains, including Burger King,
Chipotle
, and
Starbucks
, have ensured the chickens in their supply chains do not endure the worst forms of factory farm cruelty by publicly committing to effective animal welfare policies.
Leading companies such as General Mills, Unilever, and FOCUS Brands, which is an investee of Roark Capital Group like Arby's, have also listened to consumers and announced improvements to their animal welfare policies.
If they can announce these urgently needed improvements to animal welfare, so can Arby's.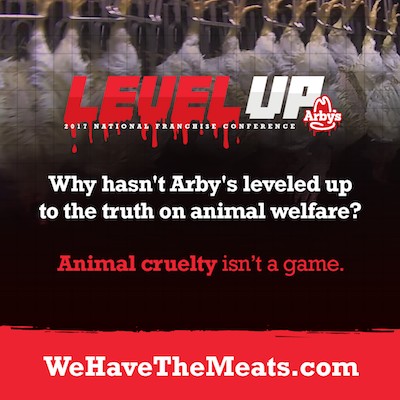 Most chickens killed for meat are bred to grow so unnaturally large and fast that they often can't even walk without pain or become crippled under their own weight. Many suffer painful heart attacks and organ failure as their bodies struggle to keep up with the rapid growth. Others suffer and slowly die when they are unable to reach food or water. It is time for Arby's to publicly prohibit this abuse.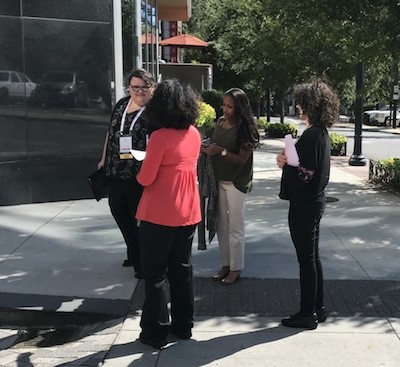 Make your voice heard! Please sign and share our
petition
. Also contact Arby's CEO
Paul Brown
and Arby's SVP of communications
Chris Fuller
and ask them to take action.
And remember, the best choice we can make to help chickens is simply to leave them off our plates. Visit
ChooseVeg.com
for a free
Vegetarian Starter Guide
and free recipes and meal plans.