Animals raised for food suffer terribly, but every day we're working to build a more compassionate food system and create a world where all animals are respected, protected, and free. In just the past six months, supporters have helped Mercy For Animals make a significant global impact.
Here are some of the most exciting achievements from this year so far:
The Supreme Court upheld one of the most powerful animal protection laws.
In one of the most important wins ever for farmed animals, the Supreme Court upheld California's Proposition 12 despite the pork industry's attempts to continue keeping animals in extreme confinement.
Mercy For Animals fought hard alongside our allies to persuade the court to uphold Prop 12, which is one of the strongest animal protection laws in the world.
We kept the pressure on companies to keep their promises to animals and consumers.
After discussions with Mercy For Animals, several companies, including Blue Apron, Sweetgreen, Peet's Coffee & Tea, and Sprouts Farmers Market, reported progress on their animal welfare policies.
We held Kroger accountable with a full-page ad in the Wall Street Journal.
Mercy For Animals held Kroger accountable for the promise they made to end the sale of eggs from caged hens by 2025. Kroger backtracked on their commitment last year, so we called out the retail giant with full-page ads in the Wall Street Journal and Cincinnati Enquirer with the headline "Kroger Can't Be Trusted."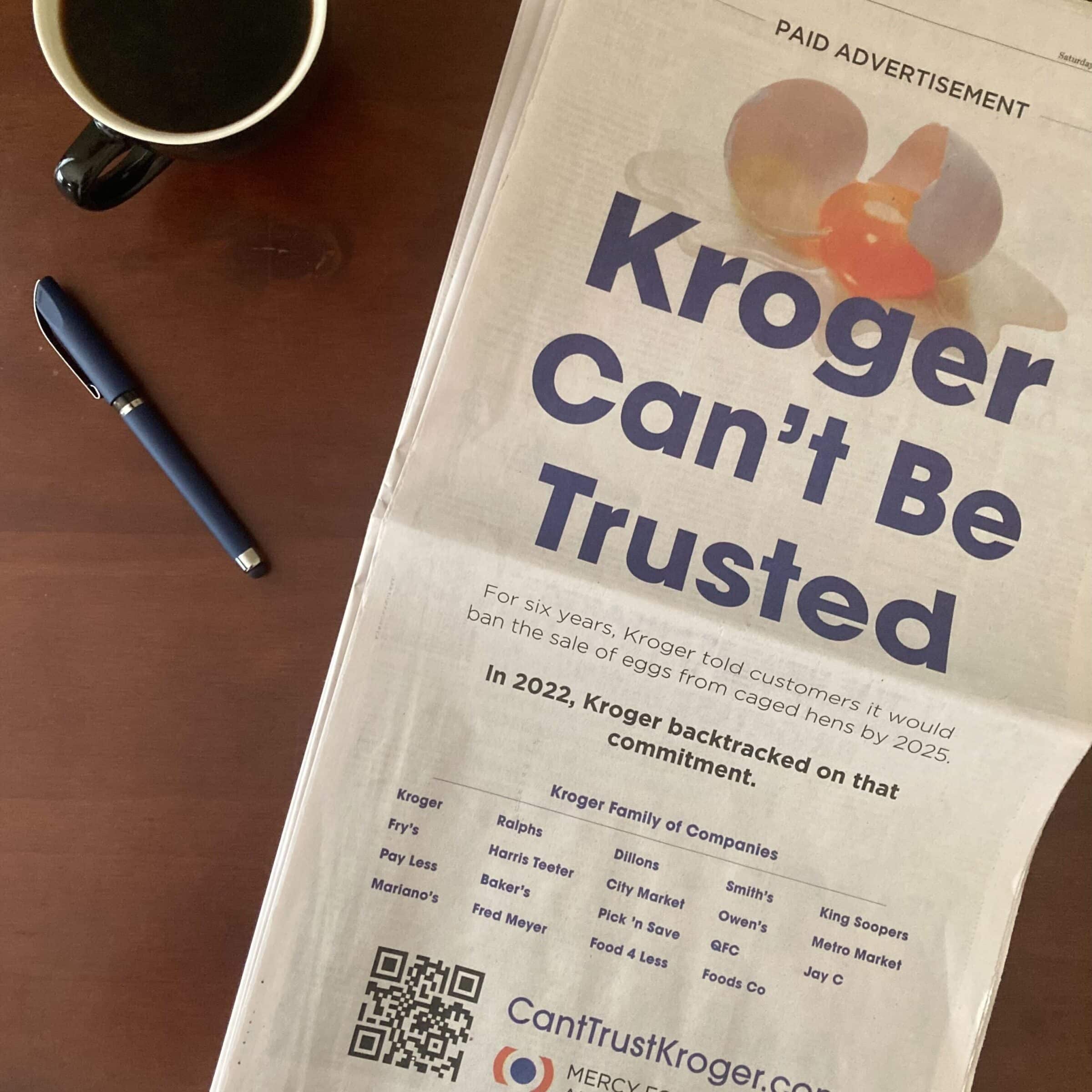 We helped bring plant-based meals to schools.
Mercy For Animals partnered with the Brazilian city of Caruaru on a food policy that will replace nearly six million animal-based meals per year with plant-based ones in city schools.
We released three powerful investigations into the meat, egg, and dairy industries.
Mercy For Animals investigators endured horrible conditions at factory farms to expose the truth that the meat, egg, and dairy industries try to conceal. In the past six months, we've released behind-the-scenes footage of a massive egg farm, a dairy farm and slaughterhouse, and three chicken farms.
Investigations play a vital role in helping consumers make more informed buying decisions, pushing governments to enact stronger animal protection laws, and encouraging companies to ban the cruelest farming practices in their supply chains.
We promoted a new vegan chicken sandwich at over 800 Subway locations.
More than 800 Subway locations across Mexico rolled out a vegan chicken teriyaki sub after collaborating with Mercy For Animals. From the beginning of the initiative, our team provided extensive support and guidance on developing and marketing the sub. And we continue to promote it on our social media channels in Mexico to ensure that the company sees the benefits of adding more plant-based options.
Your impact is undeniable!
These are just a few of the many milestones we've reached over the past six months, and we can't wait to see what the rest of the year brings. Mercy For Animals' work wouldn't be possible without our supporters!
Every time you share a social media post, sign a petition, or make a donation, you help build a more compassionate world.
Want to do even more to support Mercy For Animals? Become an Animal Ally today!