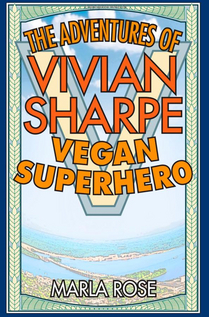 The titular heroine of the novel
The Adventures of Vivian Sharpe
,
Vegan Superhero
is a shy 15-year-old who suddenly is confronted with information and an encounter that turns her into a vegan on the spot (though she's never heard the word and doesn't know what it means), and is sent along an extraordinary path to save her community from peril. The book's author Marla Rose also made the decision to quit eating animals as a teen, and has since led a life of advocacy: writing articles, educating the public, hosting vegan potlucks, starting groups, and organizing events (including
Chicago VeganMania
) to help spread the word about compassionate living. We caught up with Marla to ask her a few questions about
Vivian Sharpe
, and what lessons it can teach real-world animal advocates.
MFA: You're mostly known as a journalist and satiric essayist. What prompted you to enter the world of fiction?
MR: I've written short fiction and creative non-fiction since college but mainly kept that to myself, probably wisely. The original story of
Vivian Sharpe
came to me unexpectedly one night when my husband and I were brainstorming ideas for new t-shirt designs for our old company, Vegan Street. I suddenly got an image of a cartoonish female figure with red hair in a superhero-esque costume floating through the air with the tag line, "V-Girl: Keeping Animals Off Your Plate." She was a vegan superhero.
When we went home that night, I just couldn't get the image of V-Girl out of my head. I was compelled to start writing a first person essay about her that evolved into a short story, then a novella, and then finally, a third person novel. The cartoonish elements had completely disappeared and she was a real person with a story to tell. What compelled me to enter the world of fiction was that Vivian entered my mind–as did the other characters – and would not leave it until I told her story. I didn't have another option but to tell it.
MFA: Vivian's jump to veganism is quite unusual and supernatural. Yet there is something about the urgency of it that has reminded more than a few readers of their own "vegan awakenings." Did you have a similar awakening that led you down the vegan path?
MR: That is interesting because I keep hearing that: even though Vivian's personal path to veganism is very odd, it resonates with people. There is something about epiphanies that are universal, I guess, once we strip away the specifics.
I had a very different path toward becoming vegan. Some people go from omnivorous to vegan overnight but that wasn't me. I became a vegetarian at 15 (the same age as Vivian) on a whim. I was filling out a form for a weekend away with a school group I was part of and, mysteriously, there was a box for checking if you needed special meals. (This did not happen in the 1980s much.) I checked the box and wrote "vegetarian." I had never considered it before that moment and ate meat up until then. I thought to myself, "Well, I'll see if I can make it through two days without meat." It seemed inconceivably hard but I was up for a challenge. Somehow I survived. Those two days went on and on until I finally made the connection to other animals and went vegan twelve years later. I'd always been someone who loved animals so being vegan was the natural progression.
MFA: What's Vivian's superpower?
MR: I'll try to not give away too much here but it's tied to her burgeoning and deep empathy. It's at once a source of strength and an Achilles heel because of how vulnerable empathy can make us, but, ultimately, it's her power. Her superpower is experienced in a totally different way than what we've come to expect from superheroes. She is a girl who considers herself totally "normal" and "average" but manages to unearth this superpower. Maybe she always had it but it was dormant or maybe it just came to her overnight. Whatever the case, it completely transforms her.
MFA: What message would you like readers to take away from this story?
MR: First of all, it was of primary importance for me to write a novel that engages and pulls readers in. My first responsibility was to write as good a book as I could with fleshed-out characters and a compelling story. After that, I don't like to tell people how or what they should think. You can see in the novel that there are lots of ambiguities and grey areas as Vivian embarks on her journey. I want readers to have their own thoughts and experiences as well, and I don't want people to feel that I am trying to direct them to having certain thoughts. I am not a big fan of doctrinaire writing. I wanted to show the complexities of making certain decisions and that what drives the human spirit is a multifaceted, complex thing as well.
That being said, I want
Vivian Sharpe
to lead people to ask questions of themselves, but, at the same time, to feel empowered, engaged and eager to bring a heightened awareness to the world.
Click here
to purchase a softbound copy of
The Adventures of Vivian Sharpe
,
Vegan Superhero
. Enter coupon code: ANM7977Z to receive a $1.00 discount off the $15.95 list price, and give a $3.00 donation to Mercy For Animals
Click here
to purchase the eBook copy. Enter coupon code: YK37R to receive a 50¢ discount off the $3.99 list price, and give a $1.00 donation to Mercy For Animals