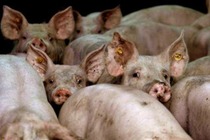 The Iowa Department of Natural Resources (DNR)
recently traced
the source of a discharge responsible for a fish kill – the killing of a large fish population by pollution – in the West Branch of the Floyd River to the Sioux-Preme Packing Company, a pig slaughterhouse in Sioux Center, Iowa. The affected area of the river extends at least nine miles downstream of the facility.
The DNR began its investigation after a resident reported stressed fish in the murky waters during the weekend of October 27. Concentrated ammonia levels were detected in the water and led to the deaths of thousands of fish.
Animal agribusiness has a long history of endangering the environment and wildlife. Pollution from
poultry
,
egg
, and
dairy
facilities has led to hazardous ecological damage impacting animal and human health.
We can contribute to a more sustainable and humane food system every time we eat by choosing plant-based options. Visit
ChooseVeg.com
for a wide array of delicious vegan recipes and meal ideas.