With deep gratitude, Mercy For Animals bid farewell to a true icon, Bob Barker, on Saturday, August 26, 2023. He was 99 years old. While the world mourns the loss of a television legend, we also remember an individual whose passion for animal protection left an indelible mark on society.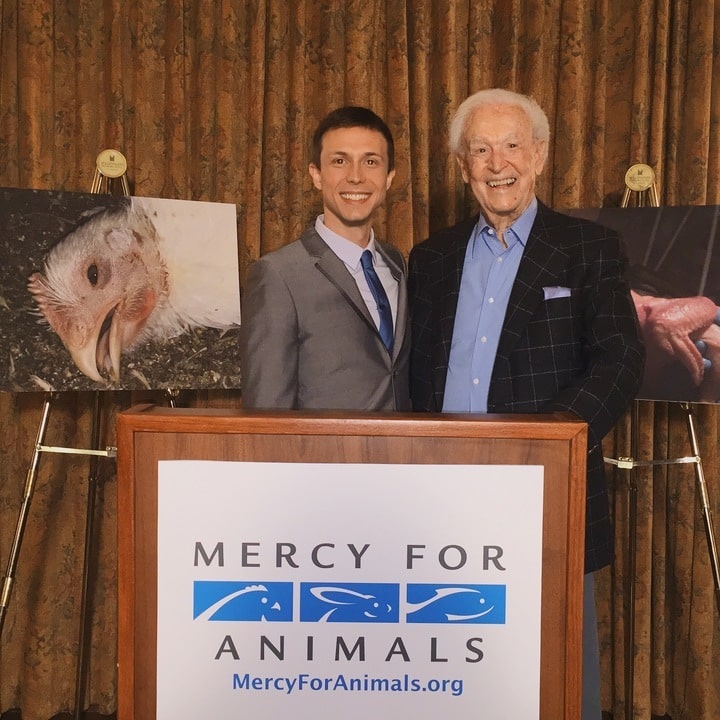 Born on December 12, 1923, Bob Barker's journey through life was one characterized by kindness and an unwavering commitment to making the world a better place. His television career spanned over six decades, but his role as the beloved host of The Price Is Right for 35 years made him a household name and endeared him to millions.
Bob ended every episode of the hit game show with a reminder to viewers to "help control the pet population; have your pet spayed or neutered," but his animal advocacy extended far beyond speaking out for cats and dogs from the confines of the studio. The passionate television personality was also a champion for farmed animals.
As one of Mercy For Animals' first celebrity supporters, Bob hosted a fundraiser for the organization in Los Angeles and later donated a substantial amount of his own money to help fund undercover investigations, an aspect of Mercy For Animals' work that he felt especially passionate about.
Bob never shied away from using his platform to help animals, even when it meant speaking out against the powerful meat industry and sharing sometimes graphic and heartbreaking undercover footage. Bob narrated three groundbreaking Mercy For Animals investigation videos. The videos exposed the horrific treatment of chickens from an American Humane-certified chicken producer and revealed pigs, hens, and calves trapped in crates so small that the animals couldn't turn around.
He also attended and spoke at press conferences about each of the investigations, helping garner significant media attention.
As a result of the campaigns surrounding these investigations—and undoubtedly, Bob's involvement in amplifying them—progress followed. Walmart committed to improving farmed animal welfare across its global supply chain with a new comprehensive animal welfare policy, Costco banned veal from farms that use a "crate-and-chain" production method, a Foster Farms worker was charged with animal cruelty, and "humane" labels were exposed as little more than a marketing ploy. In addition, countless unsuspecting consumers learned the truth about what goes on behind closed doors at factory farms.
Bob Barker's dedication to Mercy For Animals and various other animal protection organizations has surely saved lives, inspired consumers to make more compassionate decisions, and helped reduce the suffering of countless animals trapped in our broken food system. His generosity and activism will continue to inspire generations to come, reminding us all that one person can indeed make a profound difference in the world.
From everyone at Mercy For Animals, rest in peace, Bob Barker. You will be deeply missed, but your legacy will continue to shine brightly.