An estimated 25,000 people congregated at the 15th annual
Boston Vegetarian Food Festival
this weekend for two full days of fun, great vegan food and tips for transitioning to a healthy and humane
plant-based lifestyle
. With an array of vegetarian food providers from across the country offering free food samples and "show special" discounts, along with educational exhibits from leading animal advocacy organizations, including Mercy For Animals, visitors were welcomed to explore a variety of delicious, healthy and readily available vegan foods that are good for
people
and friendly to
animals
and the
environment
.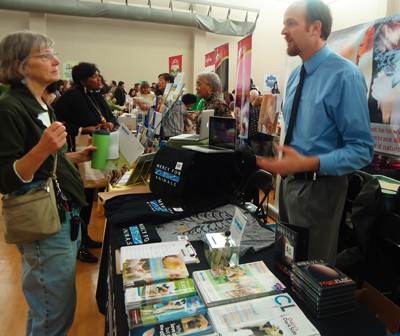 The popular festival also offered guests the opportunity to talk with top national experts on health and nutrition, including
Becoming Vegan
author and renowned nutritionist
Brenda Davis
, and the inspiring
Dr. Michael Greger
, known as one of the most entertaining medical speakers of our time.
Discerning Brute
, Joshua Katcher, talked about decoding and harnessing the dialect of fashion culture to help animals, while
Tal Ronnen
, celebrity chef and
New York Times
bestselling author of
The Conscious Cook
, taught eager attendees how to prepare mouthwatering vegan dishes, such as Gardein "chicken" scaloppini with shiitake sake sauce, braised pea shoots, and crispy udon noodle cakes.
The longest-running event of its kind in the country, the 15th annual
Boston Vegetarian Food Festival
was the perfect resource for vegetarians and vegans, and for anyone wanting to include a greater variety of healthy and delicious plant-based foods in their diets. For those of you who missed the festival this year there is no need to feel left out. Check out MFA's helpful tips and delicious vegan recipes at
ChooseVeg.com
.