Yesterday, Mercy For Animals presented Arby's leadership with over 84,000 Change.org
petition
signatures urging Arby's to publicly ban some of the worst factory farming practices for the chickens raised and slaughtered in its supply chain. Supporters then held a powerful, silent demonstration outside Arby's headquarters in Atlanta, Georgia.
Arby's touts itself as a "PurposeFULL, socially responsible company that "is committed to the well-being and humane treatment of animals and poultry. Yet on issues of animal welfare and transparency, Arby's has clearly fallen behind its competitors. It is time for Arby's to live up to the social responsibility it purports to value.
As part of an ongoing public education campaign, MFA has repeatedly shared with Arby's executive leadership that it is failing to take sufficient action on an urgent animal welfare issue. Dozens of leading restaurant chains—including Burger King, Moe's Southwest Grill,
Subway
,
Sonic Drive-In
,
Chipotle
,
Qdoba
,
TGI Fridays
,
Ruby Tuesday
,
Red Robin
,
Panera Bread
,
Starbucks
,
Pret A Manger
,
Shake Shack
,
Noodles & Company
,
Le Pain Quotidien
,
Einstein Bros.
,
Jack in the Box
, Schlotzsky's, McAlister's Deli, Cinnabon, and Auntie Anne's—have publicly adopted a comprehensive broiler chicken welfare policy.
Leading companies such as FOCUS Brands, which is an investee of Roark Capital Group like Arby's, have also listened to consumers and announced improvements to their animal welfare policies.
If all these companies can act on this important issue, so can Arby's.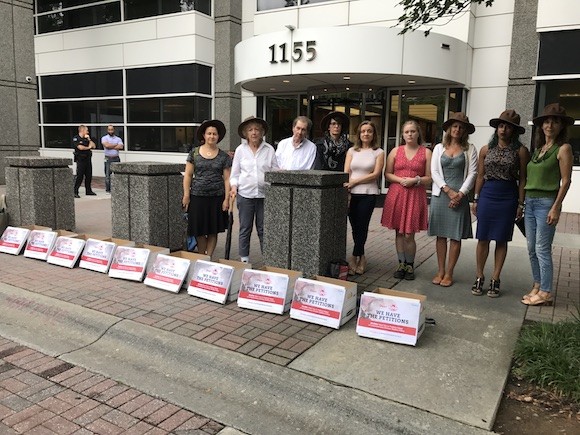 Perdue Farms, a top chicken producer, recently
pledged
to meet the supply demands of
any company
that publicly commits to sourcing only chickens raised and slaughtered according to the higher welfare standards of Global Animal Partnership, an international farmed animal welfare certification program. This major announcement exposes the widening gulf between food industry leaders, such as Perdue Farms, and Arby's, which has failed to respond to consumer demand for a comprehensive chicken welfare policy.
A
recent poll
found that four
out of five Americans
want restaurants to improve their animal welfare policies, even if it increases the cost of meat. Consumers clearly care about animal welfare and want the worst forms of factory farm cruelty eliminated from restaurant supply chains.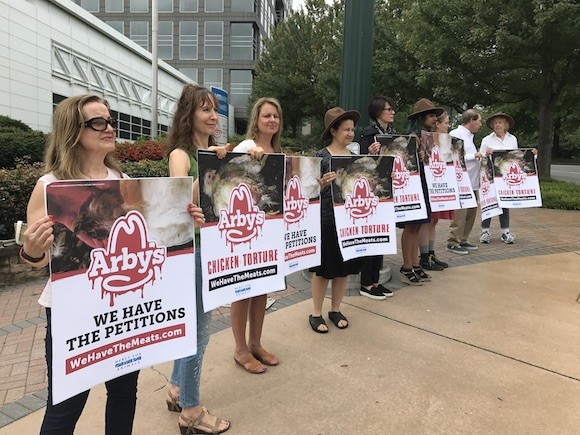 It's time for Arby's to pledge to end the cruelest practices in its chicken supply chain by 2024. Arby's must require its suppliers to stop raising birds who are bred to grow so large or fast they can't even walk without pain; end cruel live-shackle slaughter; and provide enrichments, reduced stocking density, and improved light and litter quality in accordance with Global Animal Partnership standards. These standards must be verified by third-party auditing.

Until Arby's makes these commitments, we will leverage the voices of our millions of supporters worldwide and educate consumers about its failure to take a stand on this urgent issue.
Make your voice heard! Please sign and share our petition at
ArbysCruelty.com
to help end chicken torture.