Earlier today, approximately 70 MFA members and supporters descended upon the North Carolina state Capitol to urge Governor Pat McCrory to veto the state's controversial ag-gag bill.
Blindfolded and gagged advocates held signs and banners depicting graphic images of animals suffering on factory farms and reading: "Veto Ag-Gag, "North Carolina: Safe Haven for Animal Abuse, and "Ag-Gag: Bad for Consumers, Animals and Food Safety.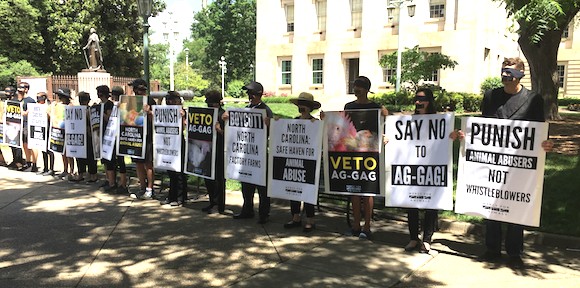 The bill, aimed at preventing and intimidating farm workers from documenting and exposing acts of cruelty to animals—an effort championed by North Carolina's factory farming interests—has passed the legislature and the clock is now ticking for Governor McCrory to take action. MFA is urging the governor to veto this dangerous and un-American legislation.
Designed to shield animal abusers from public scrutiny, this dangerous bill would punish those who dare to expose cruelty to farmed animals and threatens consumers' right to know where their food comes from.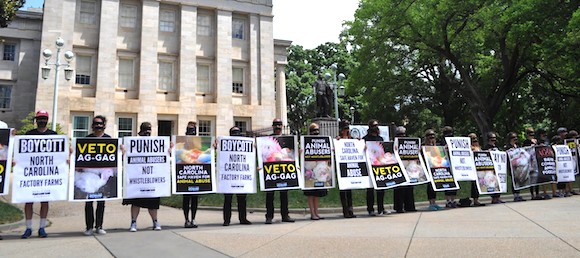 Numerous Mercy For Animals undercover investigations in North Carolina have revealed that horrific animal cruelty and neglect run rampant at some of the state's largest factory farms, hatcheries, and slaughterhouses. A 2011 Mercy For Animals investigation at a factory farm operated by Butterball—the world's largest turkey producer—exposed workers beating, kicking, throwing, and dragging animals and led to the criminal convictions of five Butterball workers, including the first-ever felony conviction for cruelty to factory-farmed poultry in U.S. history. This and other investigations would not have been possible if the ag-gag bill had been in place.
Watch the video here:
A recent poll conducted by Lake Research Partners shows that 74 percent of North Carolina voters support undercover investigations of farms by animal welfare organizations. And nearly 3 to 1, North Carolina citizens oppose efforts to impede these investigations.
North Carolina's ag-gag bill is a shameful attempt by the meat industry to prevent consumers from seeing how animals are confined, mutilated, beaten, and neglected on factory farms If signed into law, this ag-gag bill will create a safe haven for animal abuse and other criminal activity on North Carolina's factory farms.
Take action now! Please call Governor McCrory at (919) 814-2050 Option 3, and politely urge him to veto the ag-gag bill.