"Abby the Abused Chicken—a graphic, seven-foot-tall chicken with a bloody broken wing, slit throat, and open wounds—and members of Mercy For Animals have taken to the road to tell Gordon Food Service that torturing chickens will not be tolerated.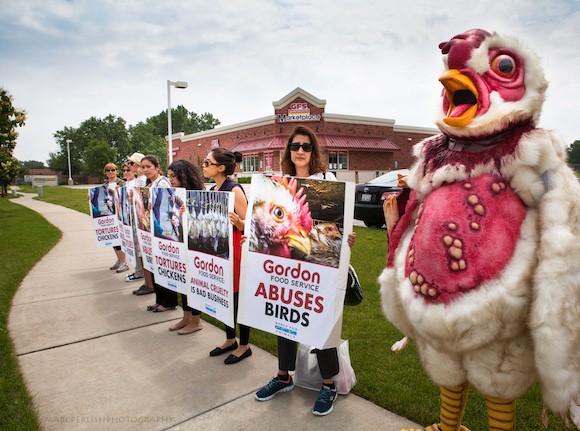 The eye-catching protests, part of a multi-city tour and the latest in a series of demonstrations against the largest privately held foodservice distributor in North America and operator of the Gordon Food Service Store supermarket chain, follow the release of
hidden-camera footage
taken at a Gordon Food Service chicken supplier farm showing birds scalded alive and having their wings and legs broken, being shocked with electricity, and having their throats sliced open while still conscious.
Abby the Abused Chicken's features and injuries—born at a Hollywood special effects studio—paint a gory, real-life picture of not only brutal butchering at the slaughterhouse, but also the tortured life of a chicken on a farm. Crammed by the thousands into filthy, windowless sheds, birds at Gordon Food Service supplier farms buckle under their own unnatural body weight, and chafe and develop boils and sores from the ammonia-laden flooring. Without adequate veterinary care, the birds' wounds are left to fester. Birds experience no natural light, no environmental enrichments, and no mercy.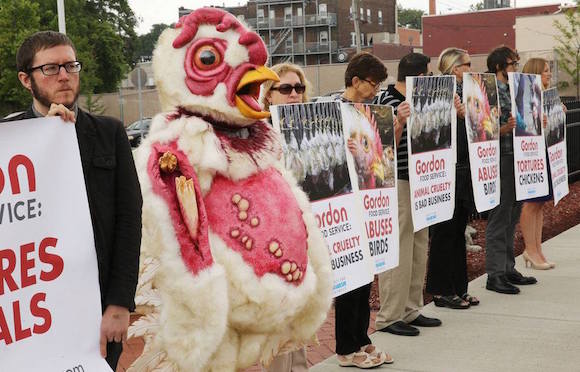 Abby's tour kicked off in
Evanston, Illinois
, with an amazing turnout from local volunteers and media outlets. Abby and team then traveled north to
Ann Arbor, Michigan
, to reach Gordon Food Service in the company's home state. More volunteers supported and media outlets covered the events in
Cleveland Ohio
;
Pittsburgh, Pennsylvania
;
Toledo, Ohio
; and
Nashville, Tennessee
. The rain did not deter local activists and media in
Louisville, Kentucky
, and
Cincinnati, Ohio
, and even more volunteers and media showed up for chickens in
Indianapolis, Indiana
, and Madison, Wisconsin.
Gordon Food Service lags behind many of its food industry competitors, such as
Walmart
,
Nestlé
,
Starbucks
, and
Aramark
, that have already adopted meaningful animal welfare standards for their supply chains. Gordon Food Service has not only the power, but also the ethical responsibility to tell its suppliers to stop dumping, shocking, cutting open, and scalding animals alive. Abby's tour will continue across the country until Gordon Food Service adopts a meaningful animal welfare policy that reduces the suffering of the millions of birds in the company's supply chain every year.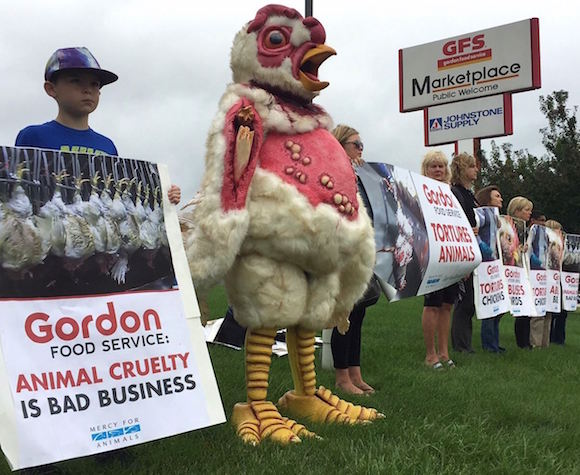 Sign our
petition
and
call Gordon Food Service at 800-968-4164 to politely ask the company to stop torturing chickens and implement a meaningful animal welfare policy.
* Cover and additional photos thanks to
MarcPerlishPhotography
. See more photos on
Facebook
.