In celebration of the fifth annual
World Go Vegan Week
on October 24 – 31, Mercy For Animals worked with popular, mainstream restaurants in Chicago, Illinois; New York City, New York; Columbus, Ohio; and Dallas, Texas to offer delicious new vegan options during the weeklong celebration – and the efforts really paid off!
Chicago residents enjoyed mouthwatering, classic Chicago sandwiches, pizzas and dogs – vegan style – at four popular restaurants:
Drew's Eatery
,
New York Deli
,
Clark St Dog
and
Ian's Pizza
. Encouraged by support from the vegan community, the NY Deli has added the new Vegan Chicken Parm to the permanent menu and is working to develop even more vegan sandwiches and to expand the vegan options in its restaurant delivery service. Ian's Pizza will be introducing a new specialty vegan pizza each month from now on and Drew's Eatery will continue to create new vegan entrées, soups and desserts.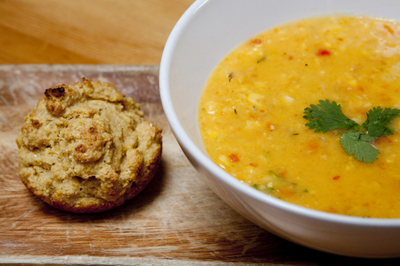 In New York City, MFA teamed up with vegan chef and
Super Size Me
co-star Alexandra Jamieson to help
GustOrganics
, the nation's premiere 100% organic restaurant, develop an exclusive, Latin-inspired vegan menu featuring Spicy Vegan Tacos with Pineapple Salsa and Avocado Dressing, Tofu Carpaccio with Arugula and Almonds, and much, much more. With a regular influx of customers hungry for the new vegan fare, GustOrganics has decided to permanently add many of the new vegan options to its regular menu. Inspired to move toward a more earth-friendly lifestyle, the co-founder of the restaurant is now also exploring veganism in her own life.
Dallas' most celebrated chefs, including Abraham Salum at
Salum Restaurant
, J Chastain of
The Second Floor
, Dan Landsberg from Tillman's Roadhouse, Scott Gottlich of
Bijoux
and Matt McCallister from
Stephan Pyles
, featured upscale vegan culinary creations, ranging from a grilled marjoram and garlic-marinated local tofu steak with roasted red pepper BBQ and a lentil-corn salad to a three-course meal, including chile-marinated mock duck with risotto corn chile-rellenos and sweet potato pie with ancho-chile fig compote. The Second Floor and Bijoux decided to add the new vegan dishes to its menus indefinitely as a result of their packed restaurants during Dallas Vegan Week, and Executive Chef Matt McCallister reports that Stephan Pyles Restaurant is developing a multi-course vegetarian tasting menu.
And in Columbus, seven local restaurants, including
Phat Wraps
,
Columbus Brewing Company
,
Knead
,
Dirty Frank's Hot Dog Palace
,
Surly Girl Saloon
,
Tip Top Kitchen & Cocktails
and
Betty's Fine Food & Spirits
, whipped up vegan-style wraps, classic sloppy joe sandwiches, chili, dogs and more. As a result of the positive feedback they received in response to Vegan Week, the Columbus Brewing Company has decided to incorporate "Meatless Mondays" into its regular lineup. Starting soon, every Monday evening there will be a vegan dinner special available from 5 p.m. until close.
In addition to adding a ton of animal-friendly options to popular restaurants in several major cities, making it easier for vegans, vegetarians and veg-curious diners alike to find great tasting vegan food, MFA's Vegan Week efforts generated an incredible amount of mainstream media attention and Internet hype. Vegan Week stories appeared in the
Chicago Tribune
,
TimeOut Chicago
,
NBC Chicago Feast
, the
Dallas Voice
, the Dallas Observer (
1
,
2
,
3
) and on the WBNS 10TV Morning Show in Columbus, as well as in a variety of popular blogs, including
VegNews
,
Ecorazzi
,
The Discerning Brute
,
Vegan Pimp
,
Vegan SoapBox
,
Kiss Me I'm Vegan
and
Our Hen House
.
The best part is that all of these successful efforts can be duplicated, relatively easily, in cities across the country. MFA's
Vegetarian Dining Campaign
is designed to give dedicated animal advocates, hungry college students and business savvy restaurateurs the resources and tools they need to help expand the healthy and humane vegan options in their own communities. Ready to expand the vegan options in your own diet? Visit
ChooseVeg.com
for great tasting recipes and helpful tips on transitioning to an animal-friendly, vegan lifestyle.