Each year, MFA's
corporate engagement team
makes enormous strides for farmed animals. We persuade some of the world's largest food companies to implement policies that reduce suffering of farmed animals, and we partner with massive school districts to serve millions of vegan meals.
Last weekend the 20 women of MFA's corporate engagement teams in Mexico, Brazil, and the United States came together in Los Angeles to discuss how to
be a more effective voice for farmed animals
, whether in boardroom meetings, on conference calls, or through other business interactions with food companies and institutions.
A highlight of the weekend was attending the
United State of Women
summit, a conference for women that amplifies the work of organizations and individuals at the forefront of the fight for women's equality and provides tools, access, and connections that help women see and step into their power to break down the barriers that hold women back.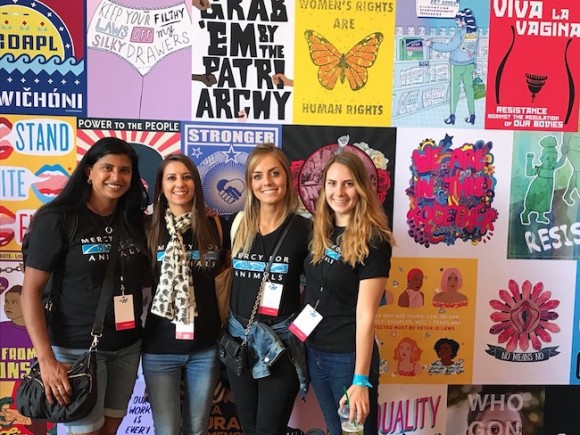 Staff members explored being a woman in today's media world, the future of women in the workforce, and the importance of dispelling stigmas and lifting one another up. We also saw amazing speakers, from former first lady Michelle Obama and #MeToo co-founder Tarana Burke to U.S senator Kamala Harris, and heard their take on women's empowerment and gender equity. The event was exceptionally inspiring, and Mercy For Animals is thrilled to be counted among the
USOW community partners
actively working toward a kinder, more equal world.
Besides the summit, we attended trainings in effective communication and successful meeting tactics, breakout sessions, and panel discussions on issues we face as women. It was an incredibly empowering weekend full of delicious vegan food, like the Impossible Burger and the all-vegan menu at Âu Lạc in Los Angeles. Most importantly though, we ended the weekend stronger and more determined than ever to fight for farmed animals.
Thanks to the hard work of so many talented women, our corporate engagement department has reduced suffering for billions of animals over the years, and we're just getting started! Please join us by signing up for our
Hen Heroes volunteer program
or applying for one of our
open positions
.